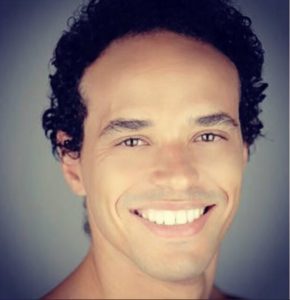 Professional Bilingual Principal Ballet Dancer, born in 1983 in Havana Cuba, trained in The National School of Ballet, with 17 years of international performance experience. Danced for world renown professional Companies such as Cuban National Ballet, Royal Danish Ballet, Company National de Bailado, Cincinnati Ballet and Ballet Met. Has worked with well known choreographers such as Alicia Alonso, Val Caniparoli, Trey Mclntyre, Yuri Possokhov among many others.
Victoria Morgan's
King Arthur

Romeo and Juliet
Bolero
Nutcracker
Cinderella
Swan Lake
Val Caniparoli's
Ladies of the Camelia's

Caprice
Heather brit's
Opus 5.5

Floating Forward
Amy Seiwert's
Yesterday-Tomorrow

I Think of you Often
Alicia Alonso's
Swan Lake

Don Quijote

La Fille Mal Gardee

Coppelia

Las Silfides

Shakespeare and his Masks

Gisselle

Dido Abandonada

Cascanueces

Bayadere

La Magia de la Danza

Sinfonia de Gotcha

Paquita

Viaje a la Luna. Umbral

Cinderella

Sleeping Beauty

En la Sombra de un Vals
George Balanchine's


Tema y Variaciones

Agon
Ivan Tenorio's
La Casa de Bernarda Alba

Los Amantes de Verona

Rítmicas
Professional Training and Education
2019-2021
Ballet instructor with Ballet Met Company
Full time faculty member with Ballet Met Academy and trainee program.
2019 Master Class at New Orleans Center Creative Art (NOCCA)
2017-2019 San Pedro City Ballet summer programs
2016-2019
Ballet Met Company Member
2012-2016
Cincinnati Ballet Company, Dir. Victoria Morgan
2012
Ballet Concierto Company (Guest Artist)
Dir. Carlos Cabrera

2010-2011
Ballet Clasico Dominicano (Guest Artist)
Dir. Marinella Sallent
2010-2011
Ballet Nacional de Panama (Guest Artist)
Dir. Cristina Qijano
2009-2010
Compania Nacional de Bailado (Guest Artist)
Royal Danish Ballet (Guest Artist)
Ballet Nacional de Paraguay (Guest Artist), Dir. Miguel Bonnin
Gala de Presentación de Espana en la Presidencia Europes, with Tamara Rojo
2001-2008
Ballet Nacional de Cuba, Dir. Alicia Alonso
2008
Anniversary Gala Teresa Carreno (Venezuela)
2006
11th World Ballet Festival (Tokyo)
2005-2007
Youth Ballet of Costa Rica (Guest Artist)
1998-2001
National School of Ballet, Havana-Cuba, Dir. Ramona de Saa
1992-1998
Escuela Provincial de Ballet Alejo Carpentier, Havana-Cuba, Dir. Silvia Rodriguez
During his Professional Training and Education years, Frometa danced around the world in Countries like Nederland, Spain, Italy, Portugal,China, Japan, Argentina, Mexico, Venezuela, France, Paraguay, Uruguay, Costa Rica, Egypt, Tunisia,Denmark and USA among others.
2000
International Ballet Competition Varna, Bulgari Bronze Medalist
1999
International Ballet Competition Havana, Cuba Grand Prix, Gold Medalist, City Award
1999
International Ballet Competition Vignale, Italy Gold Medalist
1998
International Ballet Competition Havana, Cuba Silver Medalist
1997
International ballet Competition Havana, Cuba Gold Medalist, best New Artist
1997
International Ballet Competition Havana, Cuba Bronze Medalist Alicia Alonso